Quote:
I lay there still as a doll, as a dead thing, no sign of life except a gentle sighed breath escaping parted lips as my chest moved infentisimaly. I could move, if I had wanted to, I was not imprisoned except by my clothing…and my master's mind and my collar
My collar is the most gorgeous collar I have ever seen
I was not as still as a doll I was a doll, his doll, his pretty plaything. Dressed from head to toe in tight black rubber, the only thing escaping its cool grasp were my holes, ready for him to use.

Quote:
Sometimes he liked to use me again and again, seemingly unable sate himself on me, fucking me again and again, posing me into positions and ramming his hard cock as deep into me as he can, over and over and over till he came hard and hot into one of my fuck holes.

Other times he seemed little interested, leaving me lying on the bed all day,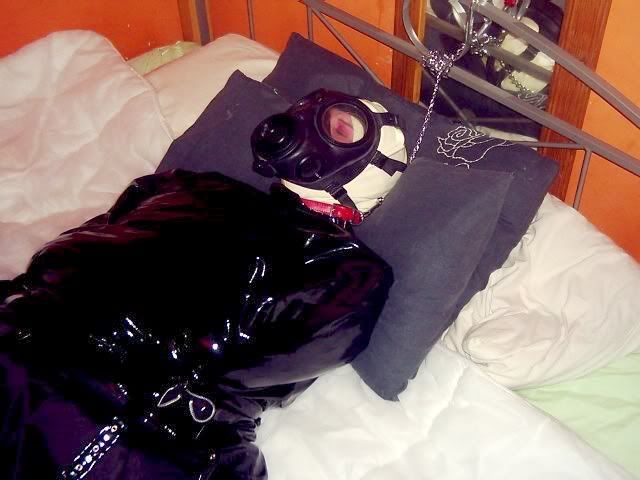 Quote:
or putting me in a chair in the corner of the room he is sitting in,occassionally looking at me, then carrying on with his work, or fun, whatever took his fancy at the time.



I have no complaints, I am not a person I am a doll. I am here to be used for his needs, I did not just believe this, I felt it, in every part of my being.

Quote:
Some days he likes to dress me up in dolly clothes, pose me and take pictures of me, sometimes he puts me on video online on his special site for me. People pay a lot of money to have me posed as they desire and then have things invade my dolly fuck holes while they watch. This amuses Master I think, but I dont really know as he doesnt talk to me much anymore.
Quote:
I am always aware of where my master is in the flat, since I stopped talking I found my senses became so much more acute. I listen for him and wonder what will come next. Looking forward to when I will next become useful, and hopefully get used sexually. How I love when he poses me on all fours and ties a cord around my neck and fucks my ass so hard tears sting my eyes in an effort not to cry out.

Sometimes he plays games with me, trying to get me to betray myself and my humanity. He pushes me more and more, trying to make me speak.
Quote:
But I dont speak.

Why? you wonder… because I am his doll and if i speak it ends, I have to stop being his doll, and go back to being me. This I cannot let happen, I could not bear it now, after all this time…

Quote:
I wonder sometimes how long it has been since he dressed me in my suit that first day, how he explained the rules to me, how I tried so incredibly hard to please him. After a while the days slipped together, and I didn't have to try any more, I felt like a doll, I WAS the doll.


My favourite moments were when he woke me in the night using me, fucking my asshole with his rigid cock, slamming into me, as i lay there limply, still half asleep, moaning internally, my pussy dripping with my juices as i cum silently, shuddering inside my suit.

In winter sometimes he dressed me in big boots and a long coat with a fur hood and a big scarf and takes me for a walk in the park. he says it is so i dont forget about the world, and start to take for granted what I have, and what a lucky dolly I am. I am happiest when he takes me home and kneels me on the floor and fucks my mouth roughly, pouring his seed into my gaping mouth telling me what a pretty dolly I am for him.

Life has its ups and downs I guess. Sometimes when he is in a bad mood I am left forgotten for too long and I soil myself, I cannot help it, I could no more walk to the toilet than if i was a stuffed toy animal. He always gets angry with himself when he has done this, and cleans me up on the changing mat, telling me he promises to take better care of his dolly.

I love the way my owner feeds me, using a tiny spoon I have to form my mouth into a perfect O and he slides my mushed up food into my mouth, which i delicately swallow. I guess that is why I am quite thin now, of course dollys should not be fat, or too thin, they should be just perfect. Master tells me I am perfect sometimes.

Today I am feeling reflective, as you can tell, thinking about the time I have been here. I would like to tell you more, but its time for dolly to be played with now, and masters hard cock needs his dollys mouth…and ass….and cunt, today Master is in a very good mood, and I think I will be played with lots.
Quote:
Lucky dolly.
by the time she wakes up in the morning its 1 more day til we get together for the weekend again
what shall I do to her next ?


I am 100% genuine