Augmenting Existing Skins
GEISHA
The most striking aspect of geisha makeup is the smooth, almost porcelain finish of the whitened face. It is achieved by first applying a base wax, called bintsuke-abura, before layering over a paste made of chalkdust and rice flour (Oshiroi) mixed with water, and finally, once excess moisture has been sponged away, a dusting of the same powder to seal it all.
This is a beautiful compromise between showing the dolls natural features
and creating a mask, again highlighting the doll as different, and object, but allowing natural reactions, smiles, tears etc to show through.
There is something so exceptionally arousing for me seeing the trails of tears and messy black make-up against geisha white.
The Oshiro can also be lightly applied to any other bare skin, lightening it, and matching it closer to the porcelain like face.
It takes a very long time to apply, and just as long to remove, but is exceptionally durable, if properly put on. The ritual of the act is both entrancing to watch, or perform, as an owner, and for the doll it provides a period in which to settle herself to her duties, physically see herself transmute into an object.
a full set of propper japanese geisha makeup can be obtained for around £150, but if you have the patience, and can gather a good beeswax and moisturiser (to blend together), a decent goth brand white foundation, and soft lipsticks and kohl, along with a wide collection of buffs and brushes, you can do just as well for significantly less. (try looking at
www.immortalgeisha.com
for tips)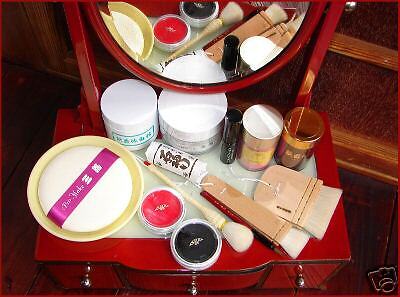 This is definately an idea for more advanced dolls, and it will be a case of practicing until you get that look just right. On the plus side, two or three dolls can be made up at the same time, using the same outlay, for a wonderfully devestating effect.
WHITE UP
A similar image to the geisha, sort of.. erm.. no.
Greasepaint and bodypaint it a really thick layer which holds pigment against your skin. It's quite difficult to get a smooth finish, and tends to smudge like crazy.
I include it here for a few of it's good points.
1) white greasepaint is dirt cheap, and easily available. Look in £/$ stores (though you may want to transfer it out of any tin with a clown on the front.
2)the thicker stuff that comes in tubes, once it dries completely, cracks with the changes in face shape. Sometimes, this is the desired effect, especially if your thing is "broken dolls", other times, it's an interesting form of.. well I guess emotional chastity. Can a doll keep a straight face, or set expression, and maintain her soft visage.
3) The finish, unlike the matte look of geisha makeup, can be very shiny, and, yes, plastic looking. An addition of some cheap shimmery face powder can leave your doll looking most manufactured in her appearance.
To get the best effect, first cleanse the dolls face, removing any dirt or natural oils, pat dry, and apply a thick layer of white-up, starting with the nose, and working out towards the edge. Now, either that's going to be a mask like whide face shape, which can be further accentuated with a black or silver keyline, or, you're working to the entire face, which is probably to the hairline, jawline, and blended into the ears and neck.
due to the greasy nature of the stuff, it's not really a good idea to leave it on for long periods, unless you really really have a pimple fetish. wipe as much as you can off with paper towels, then wash with soap, then use a cleanser, then use water, then dry with a soft towel. remember, looking after your doll is an important task.